November Gateway Park Workfest Photos
"Dang! It's hot!" It may say, "November" on the calendar, but the temps said "June" last Saturday at the Gateway Park Workfest! Work continues on the Gateway Park east side trail extension. Unlike last year where the Fort Worth Mountain Bikers' Association had great trail building weather throughout the season this day would be not be so ideal. With temps nearing the mid-90's by afternoon all that was missing was the rattle of locust in the trees.
Undeterred by the warm start to the day FWMBA volunteers loaded up war wagon with tools to begin building new singletrack.
Since the east side of Gateway Park is an old landfill we were bound to run into some ancient garbage.
Gateway Park trail steward, Andy Mans poses with some newly built singletrack.
By mid-morning FWMBA volunteers were hacking through a big stand of privet. Not fun!
Angela wrestles some barbed wire from a bygone era.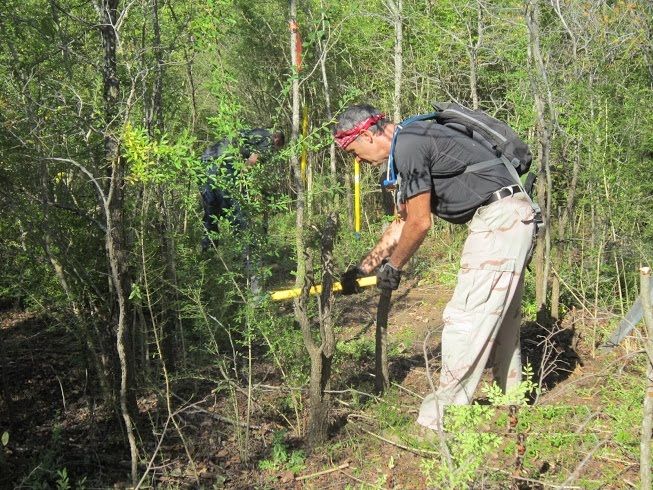 A FWMBA volunteer goes mid-evil on privet.
Amanda checks out a honey locust tree. Very pointy.
Privet being hauled off to make way for luscious singletrack.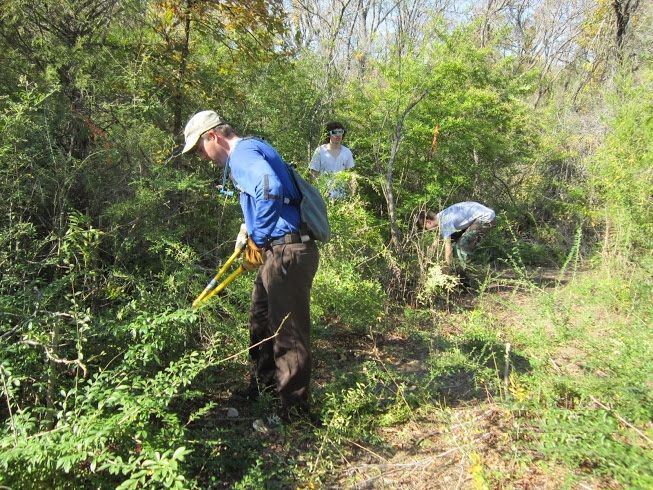 This is not family friendly privet.
After choppin' privet in the hot sun I fought the taco and the taco won – but only after I ate 3 of them.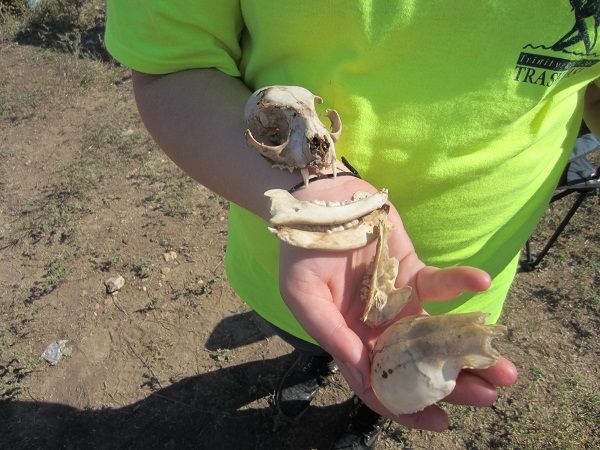 Some life forms succumb to privet.
It wasn't all fun in the sun. FWMBA volunteers planted over 100 spring bulbs around the FWMBA trailhead.
More bulbs were planted at the trail entrance
Even the FWMBA kiosk got the spring bulb treatment.
The unseasonable hot (not warm, hot) weather hindered the progress of FWMBA. However, progress was made. With any luck we'll have an unseasonably cool day late next spring to make up for this day's summer-like conditions. 16 volunteers, some working till mid-afternoon, added more singletrack to the already great trails at Gateway Park.
FWMBA next Gateway Park Workfest will be Saturday, December 1. Be there for more fun, food and singletrack building!
LC